Moments of happiness and adrenaline, but also the strenuous seconds where you ask yourself why you are doing something … the authentic and documentary recording of these moments within images has been always a topic of photography.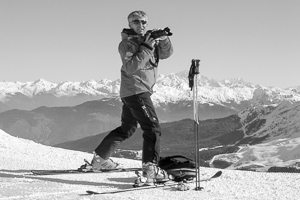 Photography, especially my passion sports photography is not like painting – where the artist always catch the accurate moment he just imagines.
Digital photography with its technical possibilities offers the chance to record feelings, experiences and moods in many facets and manifestations. I try to capture those moments in pictures – I know these moments, because I've also made the same experiences over many years of activities.
Since my childhood I go in for sports with body and soul: for over 45 years on skis, 15 years as a licensed ski teacher, since many years as an inspired telemarker, organiser of winter sports events, freeride weeks, etc.
In summertime I'm on the move with walking sticks, mountainbike & racing cycle or in-line skates – nordic walking, running, bouldering or climbing, water sports oder canyoning are for me just as much pleasure as meanwhile part of my occupation. Sports such as handball and (beach) volleyball, athletics, squash or badminton I have actively practiced or still do.
My connectedness to nature is reflected in my studies of geography. With photography, I also began while studying, Remote Sensing and EBV were contents of my studies already in the late 80s. After about 10 years as head of IT, marketing and event organization in a trading company, I decided to work as a freelancer in 2001 and from 2004 I combined my passion for sports and photography into a professional career!
Meanwhile, I am no longer at home just in sports photography – some more fields have been added, since I earn my living by photography.